PRODUCT DETAILS
---
Intermediate Level – difficulty rating – 80/100.
You've solved Aqua, then Blue, Green, what's next? Bronze!
Crafted from anodized aluminum and nickel-plated brass, this is the intermediate level of the Revomaze family.
Using memory and gentle guiding is the method to navigate through this challenging maze, avoiding frustrating traps that reset the puzzle. Our V1 Bronze is our first dynamic puzzle, so expect a challenge, not for the faint-hearted.
DELIVERY
---
We aim to ship orders on the same day of purchase. However, due to the time of order and high demand, orders are usually shipped within 3 working days.
Check our Terms and Conditions for further information on our returns policy.
PLEASE NOTE THIS PRICE EXCLUDES VAT (if applicable, it will get added at checkout)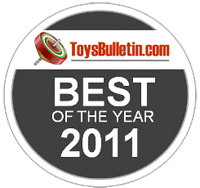 Our V1 Bronze won ToyBulletin.com Best Toy Of The Year 2011!