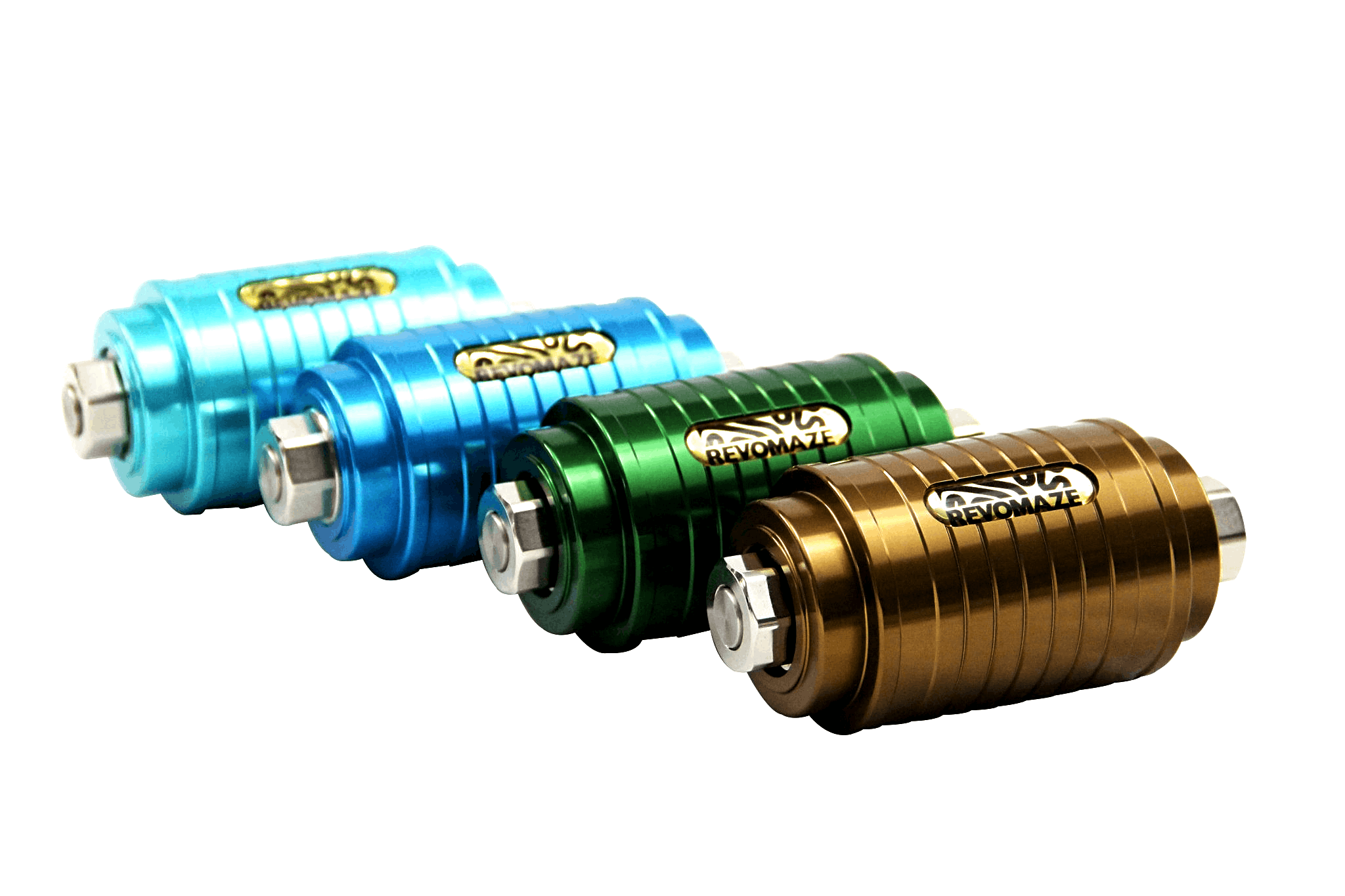 Revomaze's shown from L to R: Aqua, Blue, Green and Bronze.
The Revomaze team brainstormed and came up with five recommendations for safely and effectively operating the Revomaze.
Make sure the Revomaze isn't left on a slippery surface where it can fall off. When purchasing a Revomaze, there are a few things to keep in mind. A Revomaze owner's worst worry is that their expensive puzzle will roll off their table and onto the floor, inflicting damage to their Revomaze. We sell stands in our online store to reduce the chances of this happening. To avoid this, we recommend using a stand for your puzzle and storing it somewhere safe while it is not in use to avoid damaging something or someone.
Puzzle pouches are great because they protect your Revomaze from potential damage such as dents, scrapes, and unwanted marks, which is the last thing you want to happen! We sell black velvet bags on our store, which are usually in stock. Take a peek at the accessories part of our website if you're interested.
Do not leave unattended with children
Children are naturally curious about things, and the Revomaze could put them in danger. Small parts, the hard exterior surface of the sleeve and shaft, and the bubble label, which can be easily removed, all contribute to this. We urge that you keep an eye on your child while he or she is working on the puzzle and, as previously stated, protect it as much as possible.
Avoid using too much force
You believe you've reached a jam and aren't sure where to go next; this is one of the most common scenarios in which too much force is applied when it isn't necessary, resulting in puzzle damage. It's important to note that the Revomaze is delicate, and that applying too much pressure can cause problems. Next time, move the pin slowly through the maze's more challenging areas, pausing frequently if you don't think you're making progress.
We strongly advise you to take frequent breaks while solving the Revomaze. As a result of overdoing it, your hands and wrists will develop dull aches and pains over time. Twisting, pushing, and pulling activities are required to operate the Revomaze, which may cause discomfort over time.
It's crucial that you pick it up for a short period of time, set it down for a lengthy period of time, and then pick it up again. If you're stuck on a Revomaze and can't seem to get anywhere, try visualising and mapping out the maze in your head, or talk to other Revomaze solvers before continuing.
We hope that this quick guide has changed the way you operate your Revomaze's. Please feel free to share our blog with anybody you believe would benefit from it!