PRODUCT DETAILS
---
The challenging Bronze V1 has a difficulty rating of 80/100 on the Revomaze scale and is the toughest puzzle in our intermediate range.
The Bronze V1 was the first Revomaze designed as a dynamic progression maze, and is said to be the forums favourite. This puzzle requires patience, concentration, and dedication to solving and is a great prelude to our advanced suite of puzzles. Customer reviews praise this puzzle as a rewarding edition to the Revomaze range.
Ready for the ultimate challenge? Move on to our advanced suite and try the Copper or Gunmetal editions if you dare!
This beautiful maze is machined and assembled by hand, from top quality materials and nestled in a stunning presentation case making it the perfect gift for the puzzle enthusiast in your life.
Want to know more? Head over to the forum to talk all things Revomaze with other puzzle enthusiasts here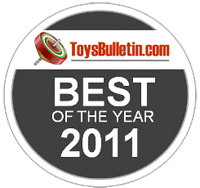 Our V1 Bronze won ToyBulletin.com Best Toy Of The Year 2011!
DELIVERY
---
We aim to ship orders on the same day of purchase. However, due to the time of order and high demand, orders are usually shipped within 3 working days.
Check our Terms and Conditions for further information on our returns policy.
PLEASE NOTE THIS PRICE EXCLUDES VAT (if applicable, this will be added at checkout)