PRODUCT DETAILS
---
Intermediate Level – difficulty rating – 80/100.
Bronze was the first Revomaze to be the first dynamic progression maze, the Bronze is said to be the forums favourite and is greatly more challenging than Blue or Green with a difficulty level closer to 100. This puzzle requires patience, concentration, and dedication to solving it however when solving it our happy customers have said the journey was very rewarding.  Avoiding frustrating traps that reset the puzzle so expect a challenge, the Bronze is not for the faint-hearted.
DELIVERY
---
We aim to ship orders on the same day of purchase. However, due to the time of order and high demand, orders are usually shipped within 3 working days.
Check our Terms and Conditions for further information on our returns policy.
PLEASE NOTE THIS PRICE EXCLUDES VAT (if applicable, it will get added at checkout)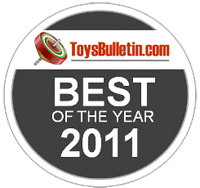 Our V1 Bronze won ToyBulletin.com Best Toy Of The Year 2011!