Ruby Repackage Instructions
Please follow the below instructions on how to repackage your Ruby Revomaze for it to be sent back to HQ. We have also attached a video of Sophia showing and explaining how to package your Ruby if this would be helpful for you.
What you will need:
Ruby
Standard Black Box 
2 Revomaze-shaped foam or bubble wrap or similar
White outer shipping box
Mailer bag (Or similar, this is to ensure that the package is waterproof)
Clear Tape
Please get in touch if you are missing any items and we can supply you with these or advise what to use instead.
---
Instructions:
Place your Ruby into the Black Box
---
2. Place the Black Box into the white mailer with the foam in the box. One piece of foam should be at the side and the other at the bottom.
If you do not have the foam, you can also use:
Bubble Wrap
Lots of Tissue Paper
Packing Peanuts
We do this to ensure that the Revomaze is well protected in Transit and will not get Damaged.
1
1
1
---
3. Close the box and shake to ensure the Ruby is well protected for Transit. Then tape around the box.
You can use any tape for this step
1
1
1
1
1
1
---
4. Put box into mailer bag or substitute.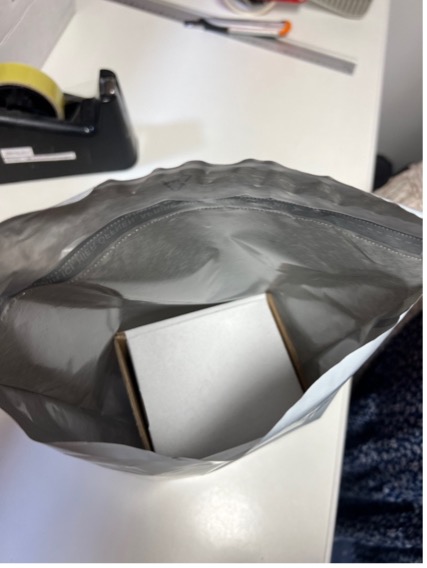 We use the mailer bag to make the package waterproof. You can also use other mailer bags or even carrier bags.
1
1
1
1
1
1
---
5. Tape around the box to ensure there is nothing sticking out.
You can use any tape for this step.
1
1
1
1
1
1
---
6. Contact Sophia with a photo of your package. If you have used a different box please include the measurements of the box.
---
Thank you for your patience and cooperation. If you need some extra guidance please do not hesitate to contact us by email or you can phone 01229 481293.
Once your Ruby has been delivered, I will notify you.